We are out of our coffee, temporarily. BUT- we have our coffee at the millers and we will have our coffee back by Tuesday night!
The processed and washed coffee from our first two "rounds" of picking fresh mature coffee is drying in the sun. Like carefully cured tobacco leaves, perfectly ripe tomatoes or corn or any other farm products- our crop of excellent coffee is in the hands of Mother Nature!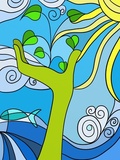 Coffee beans need to reach 11.5% moisture before they can be taken to the mill, have the parchment "skin" removed and be turned into green unroasted coffee.Then we can bring it home and send it to you green or roasted. About 10 days or less and then we will have our mountain of coffee for sale again.
I know you will be disappointed and it is painful for us not to have what you want. Nothing we can do. We are a high elevation coffee farm at nearly 1900 feet which makes the ripening slower than it is at lower elevation farms. Some people believe that because of the slower ripening, our coffee tatses better.
If you want to be put on the "alert" list for green coffee or roasted coffee, please email me and you will know the very moment we have our coffee ready for you! No obligation incurred.
Thank you in advance for your understanding and your patience.
with aloha, Cea and Bob